Outstanding clearer vision
Skeye Multicoat combines outstanding anti-reflective performance with greater protection against dirt, scratches and moisture.
Delivering a combination of toughness, clarity and easy cleaning, Skeye Multicoat is unequalled by any other anti-reflection lens coating.
Features:
Clearer Vision
Cosmetically Enhancing
Improved Night Vision
Easy to Clean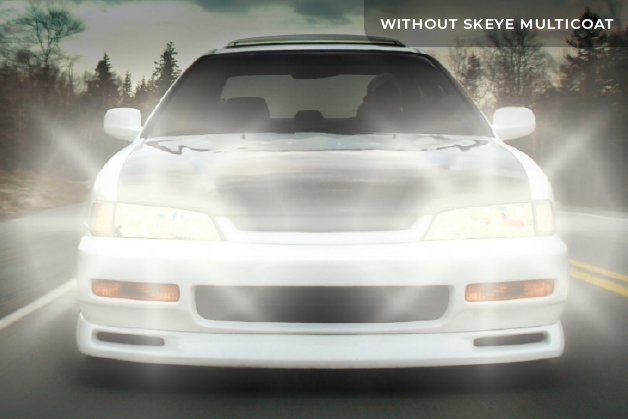 Clearer Vision
Skeye Multicoat increases light transmission by at least 8%, providing the wearer with crisper and clearer vision. This is achieved by reducing front, internal and back surface reflections. This allows almost all available light to pass through the lens and enter the eye for outstanding vision results.
Cosmetically-Enhancing
Skeye Multicoat enhances the appearance of the patient's glasses by reducing reflections of light from the front and back surface of the lens, making them look thinner and more transparent.
Improved Night Vision
Skeye Multicoat provides up to 99% light transmission, providing the wearer with better vision at night. This is a particular advantage when driving at night, as glare from oncoming head lights is dramatically reduced.
Easy to Clean
Skeye Multicoat uses the latest technology to produce an extremely hydrophobic and slippery surface, resolving the age old problem of keeping your lenses clean.
Interested in any of our products?
Get in touch with us now!
1800 251 852
info@opticare.com.au
New South Wales
118 Adderley St, Auburn
NSW 2144
Phone: 02 9748 8777
Fax: 02 9748 8666
Queensland
Unit 3, 5 Navigator Place, Hendra
QLD 4011
Phone: 07 3630 2366
Fax: 07 3630 2399
Western Australia
6 / 63 Russell St, Morley
WA 6062
Phone: 08 9376 3700
Interested to know more about the Skeye Multicoat lens coating?
Your questions are all welcome. Contact us and we'll be in touch right away.