NuPolar® Polarised lenses are the world's most trusted Rx polarized len with proven quality, able to block glare and 100% of harmful UVA (315 - 380 nm) and UVB (280 - 315 nm) rays.
NuPolar® lenses perform better than competition in many crucial tests of polarizing efficiency, heat stability, film adhesion, color stability etc. NuPolar lenses are available in more colors, styles and materials to fit your life than any other Rx polarized lens.
Key Features
Now style-conscious patients can get the gradient they want with the polarization they need.
Block blinding glare
NuPolar Gradient lenses block the vision-restricting glare that reflects from horizontal surfaces such as the dashboard, pavement, water or snow.
No tinting required
NuPolar Gradient lenses have the gradient built in to the encapsulated polarizing filter. No tinting is required at the lab.
Consistent matching
NuPolar Gradient lenses are polarized, not tinted, so the right and left lenses will always match perfectly.
Faster turnaround
Because the lab does not have to gradient-tint the lenses, NuPolar Gradient sunwear may be completed and shipped more quickly.
No fading over time
The gradient in NuPolar Gradient lenses is encapsulated within the lens, not on the surface. This prevents the gradient from fading over time due to exposure.
Looks fabulous
Fashion-conscious patients love the look of a gradient lens! Now they can sport the style they want while enjoying the glare-blocking benefits of polarization!
Blocks Blinding Glare
NuPolar® acts like a "visual filter" for your eyes making every situation where the sun is present look clearer and richer by blocking blinding glare. Camera enthusiasts have known for years that a polarized filter makes their pictures look better... why not give the same benefits to your eyes through NuPolar® lenses?
Availability
Dark to light gray, Dark to light brown, Dark brown to light gray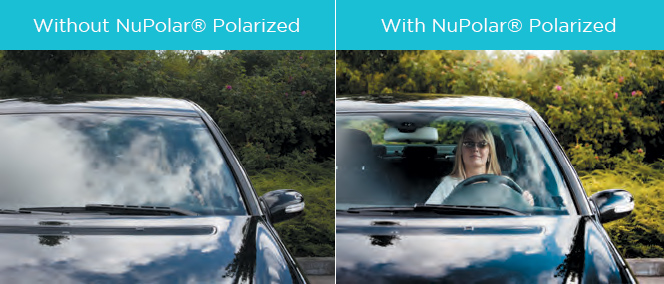 Polarized prescription sunwear lenses that are darkest in the upper portion of the lens, and gradually become lighter in the bottom portion of the lens.
Interested in any of our products?
Get in touch with us now!
1800 251 852
info@opticare.com.au
New South Wales
118 Adderley St, Auburn
NSW 2144
Phone: 02 9748 8777
Fax: 02 9748 8666
Queensland
Unit 3, 5 Navigator Place, Hendra
QLD 4011
Phone: 07 3630 2366
Fax: 07 3630 2399
Western Australia
6 / 63 Russell St, Morley
WA 6062
Phone: 08 9376 3700
Interested to know more about NuPolar?
Your questions are all welcome. Contact us and we'll be in touch right away.