Standard Full Field White on White Perimetry
The IFA and IVS series offer a wide range of test patterns and strategies, including T30-2, T24-2, T10-2 for glaucoma diagnosis and T-Macula for macula function assessment. In addition, special test patterns like driver feasibility, monocular/binocular social security disability are also included.
Unlike other hidden LED array products using red/yellow stimulus, IVS series use the exactly same white stimulus and background illumination as those front projection perimeters ( eg.IFA series). The same dynamic range, same stimuli and background illumination resulted in highly consistent test result with high-end, mainstream front projection perimeter.
To better detection of visual field loss caused by early stage glaucoma, points of T30-2 and T24-2 are cautiously configured on the most sensitive position of retinal nerve fiber bundle.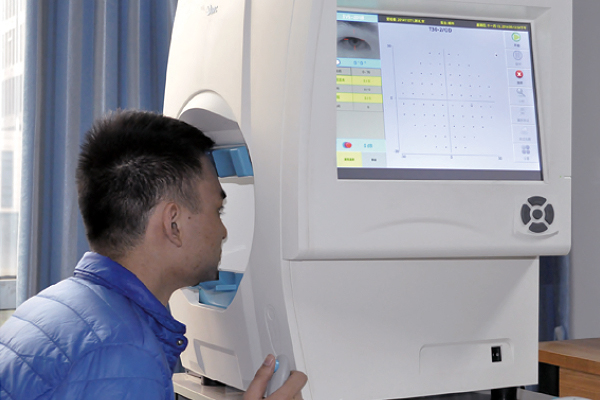 Regionally Condensed Stimuli Test (RCS)
RCS is specially developed in IFA-950/IFA-960. It enables users to add more stimuli around each standard stimulus to increase the accuracy in detecting vision loss.
For instance, the test is divided into 76 grids in RCS-30 test. Doctors can add more stimuli in each grid with density of interval 1°/2°/3° options.
Precise Diagnosis
Strictly conforming to the newest perimetry standard of IMAGING and PERIMETRY SOCIETY, IFA series simultaneously fulfill the needs for ophthalmological and neurological uses. Equipped with world-wide accepted 31.5 asb background illumination and incorporated with efficient HISA algorithm, comprehensive fixation control and age-related normal database, IFA's test result is highly consistent with Goldmann standard perimeter.
Low Light-declining LED
LED light source has characteristics of high efficiency, low heat, long life and low light decay. Its radiating energy reduction is less than 20% after 30,000 hours of illumination. That means, if there is about 300 stimulus for each test, and each stimuli lasts for 200 ms, then, after 1.8 million tests, the stimulus intensity of IFA has attenuated less than 1 dB. Furthermore, to ensure even more stable performance, IFA has built a light measuring sensor internally to detect any abnormal change in light intensity.
Blink Control and Gaze Tracking
"Gaze Tracking" constantly monitors the pupil position and patient's fixation. System beeps to draw patient's attention when a fixation shift is detected. If fixation shift lasts for a while, system will stop test and inquire operator's intervention.
IFA's BLINK CONTROL helps patients avoid from dry eyes and relax them to stay focused in subsequent test. When IFA's BLINK CONTROL is on, stimuli during patient's blink will not be counted and will automatically be repeated in later test.
Dedicated System, Safer Data, Easier Use
Instead of common x86 PC and its relative operating system, IVS series adopt low power, high reliability, space compact industrial embedded ARM computer and dedicated operating system. IVS series is immune to common computer viruses, and its simple structure (no video card, no hard disk, no DVD drive) brings incredible reliability. More 1,000,000 tests can be stored in more than 32 GB solid state disk. High drop and unusual power off will not result in any data loss.
HISA - Heuristic Interactive Threshold Searching Algorithm
HISA forecasts initial threshold for new point through a complex mathematical model, which takes neighboring tested results and same age normal values into consideration. Then unnecessary search will consequently be avoided. HISA does a sample survey from some specific location. Subsequently, time will be saved for patients with serious reduction of sensitivity by skipping those high-sensitivity questions.
Glaucoma Progression Analysis
IFA can accurately differentiate clinically significant progression of visual field loss from random variability within a series of follow up tests, providing an advanced, reliable method to enhance the management of glaucoma. It really helps identify rapidly progressing, high-risk patients.
Automated Pupil Measurement
IFA can automatically measure patient's pupil diameter and print it in report. This benefits comprehension of the correlation between pupil size and perimetry result to avoid wrong report interpretation with too small pupil size.
Downloads
Brochures, Guides, and Documents
Interested in any of our products?
Get in touch with us now!
1800 251 852
info@opticare.com.au
New South Wales
118 Adderley St, Auburn
NSW 2144
Phone: 02 9748 8777
Fax: 02 9748 8666
Queensland
Unit 3, 5 Navigator Place, Hendra
QLD 4011
Phone: 07 3630 2366
Fax: 07 3630 2399
Western Australia
6 / 63 Russell St, Morley
WA 6062
Phone: 08 9376 3700
Check our other diagnostic solutions
Interested to know more about the VisuScience IFA & IVS Perimeter Series?
Your questions are all welcome. Contact us and we'll be in touch right away.